So... here's the deal. I enjoy making lists. I also enjoy torturing myself in the form of forcing myself to pick favorites (it's a very painful process for me, okay? I feel bad leaving things out and choosing one thing over another!). So what better way to combine these two boredom-induced activities than by making lists of my top twenty songs by my favorite musicians? Naturally, first up is none other than Rilo Kiley.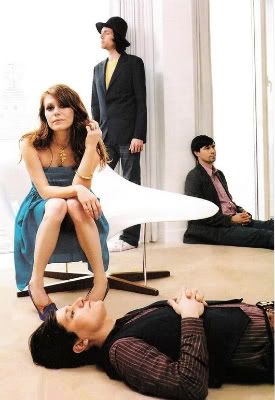 I had planned on posting this particular list awhile ago and I had this whole entry with in-depth explanations for each choice all ready to go... and then I somehow accidentally clicked refresh and the saved draft ended up being not-so-recent so I lost it all and got so frustrated that I didn't even want to post it anymore. But I have the songs uploaded so it seems a waste not to. But I can't do all the explaining over again. I've posted about a good amount of these songs before anyway so if you want to know my reasons for loving them, just look back through the Rilo Kiley tag or something. Or just let the songs speak for themselves; come on, I think it's pretty obvious why they're awesome. If you somehow have not heard any of these, get to doing that right this moment!
As a disclaimer of sorts, I must stress that this is a list that's constantly changing; the top ten has been pretty static for awhile but the bottom ten are more fluid and move around depending on what I'm in the mood for. Also, please don't hate me for not including a certain song. I do love almost every song of theirs and this was a hard list to narrow down! And I was hoping this would make a nice "ultimate Rilo Kiley" mix but unfortunately it won't quite fit on an 80-minute disc as is. The last couple of songs would have to be knocked off. Or maybe only one if the silence/interludes at the end of certain songs was edited out but I'm too lazy to do that right now.
( Drumroll, please. )